Recipe
Sardine Stuffed Eggplant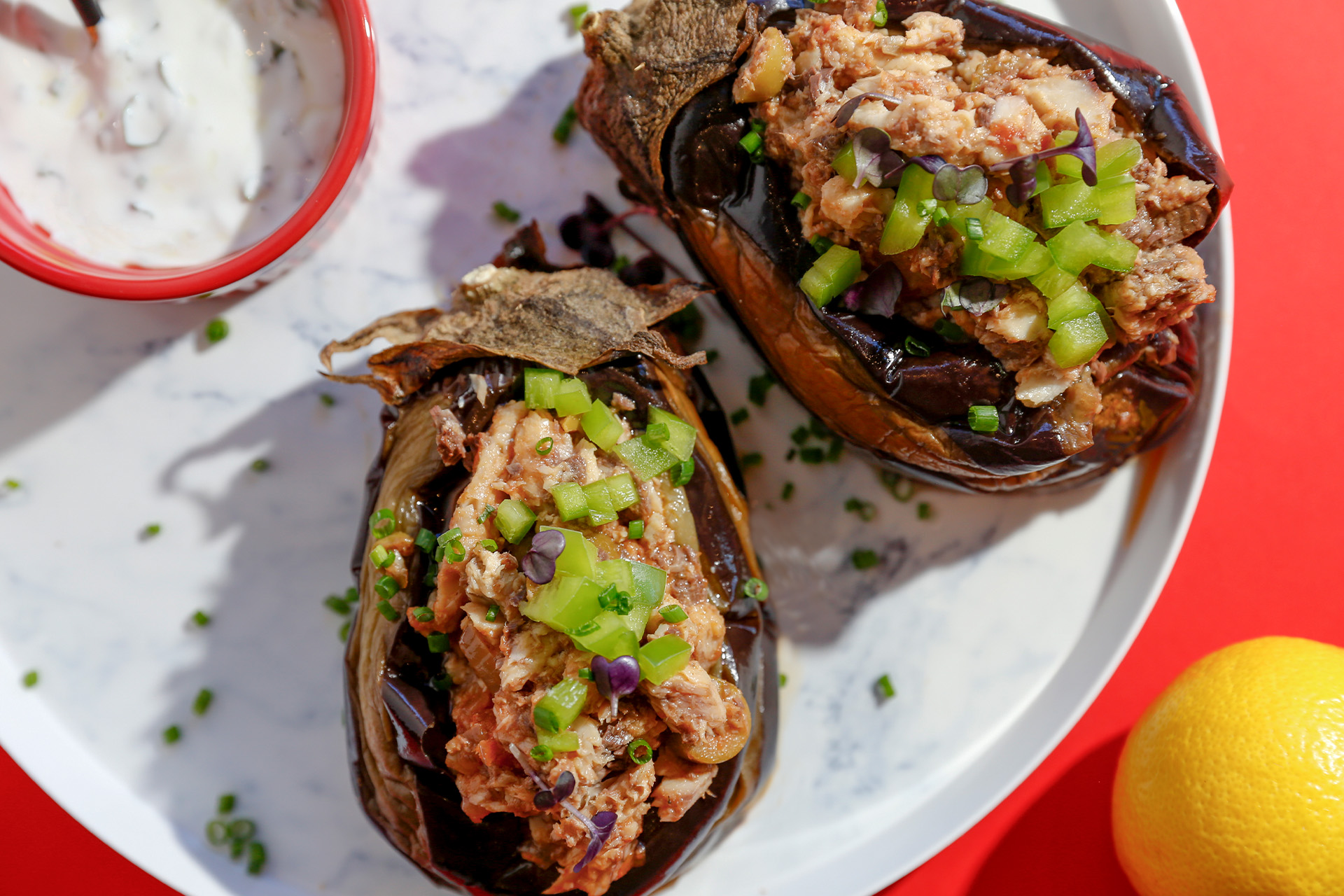 Sardine Stuffed Eggplant
Print Recipe
Ingredients
3 tbsp olive oil

 

4 small eggplants

 

1 white onion, diced

 

6 garlic cloves, thinly sliced

 

1 tsp cumin

 

1 tsp dried thyme

 

1 tsp dried oregano

 

4 cans (124g) Club Des Millionnaires Skinless Boneless Sardines with Olives in Herb Infused Oil, drained 

 

3 tbsp tomato paste

 

4 celery stalks, diced

 

1 green pepper, diced

 

1 cup chicken broth

 

1 cup yogurt

 

1 garlic clove, grated 

 

1 tbsp dill, finely chopped

 

1 tbsp mint, finely chopped

 

1 tbsp parsley, finely chopped

 

Salt and pepper to taste

 
Directions
Preheat the oven to 400°F.

 

Use a vegetable peeler to "stripe" the eggplant by peeling off rows of skin lengthwise. Dice the extra strips of skin into small pieces to add to the filling. 

 

Add whole eggplants to a baking dish and toss with 2 tbsp olive oil. Bake for 45 minutes.

 

Meanwhile, make the filling. Warm the remaining olive oil in a pan over medium-low heat. Add the onion, garlic, diced eggplant skin, cumin, thyme and oregano and cook for 5 minutes, until fragrant. Season with salt and pepper.

 

Add in the sardines and break apart with a wooden spoon.

 

Add the tomato paste and cook for a further 3 minutes. 

 

Add the celery and ½ of the diced green pepper and cook for another 5 minutes. 

 

Once eggplants are cool enough to handle, use a sharp knife to cut them down the middle lengthwise (like a baked potato), making sure not to cut all the way through. Prop them open, season each one with salt and pepper and fill with the sardine filling. Top with the remaining diced pepper. 

 

Pour chicken broth into the dish and bake for another 15 minutes.

 

Meanwhile, mix the yogurt in a bowl with the garlic, mint, dill and parsley. Season with salt and pepper. 

 

Serve the eggplant with herby yogurt.
Recipe Reviews