Sardine Recipe
Deviled Eggs Stuffed With Sardine Rillettes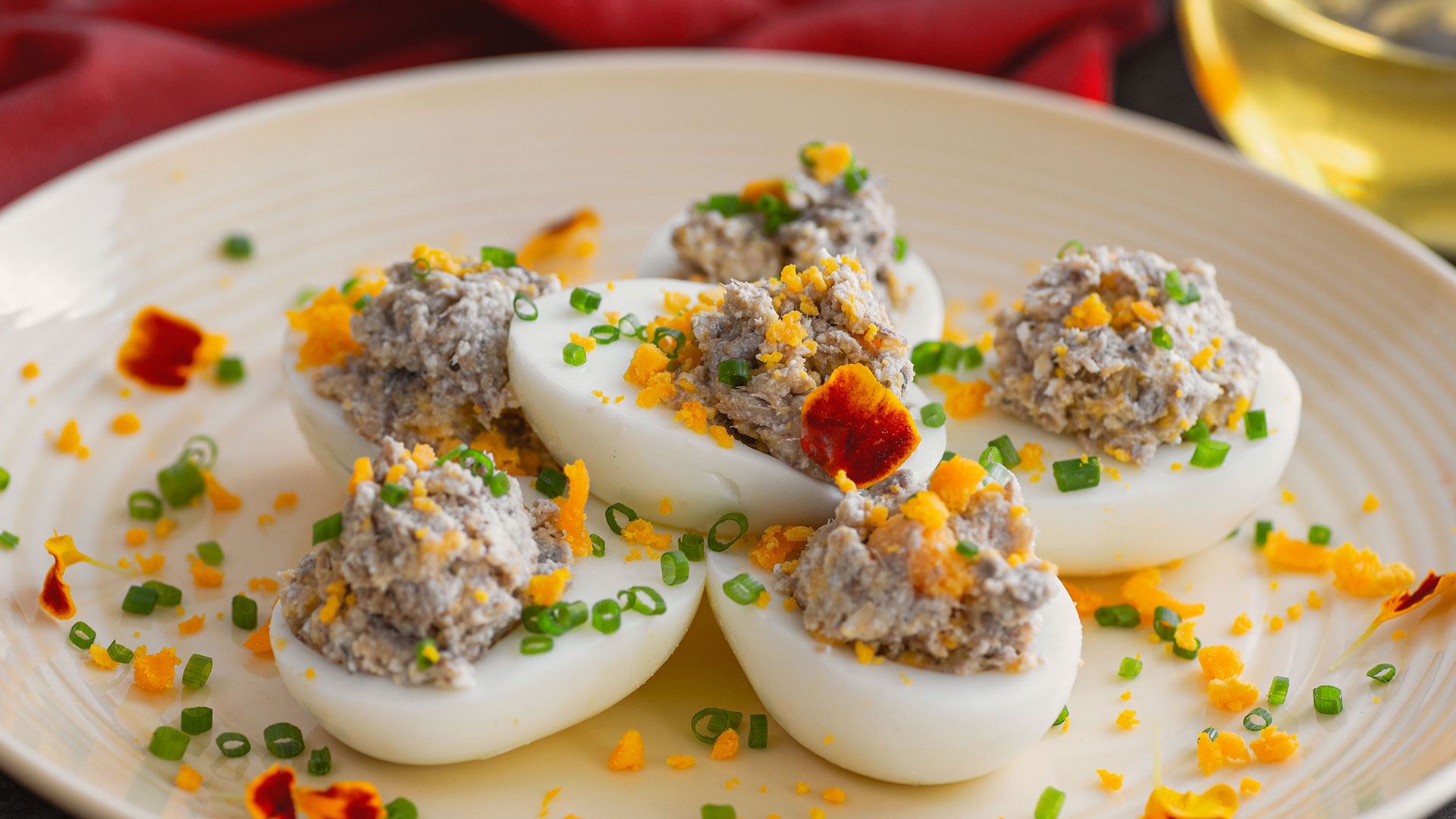 Deviled Eggs Stuffed With Sardine Rillettes
Print Recipe
Each small bite of this fun and delicious appetizer is packed with bright flavours and textures from the egg, sardines, and chili flakes. The delicious and creamy Deviled Egg filling can also be used in other appetizers and snacks on crackers and bread.
Ingredients
4 eggs
1 tbsp lemon zest
1 tbsp lemon juice
1 shallot (finely chopped)
8 chives (finely chopped)
85g (1/4 cup) cream cheese
Pinch of dried chili flakes
Freshly ground black pepper, to taste
Directions
FOR THE SARDINE RILLETTES:
In a bowl, combine Club Des Millionnaires Skinless/Boneless Sardines (reserve 1 tbsp of the sunflower oil) with shallots and cream cheese. Mix well.
Add the reserved sunflower oil, lemon juice, lemon zest, chili flakes, black pepper and chives to the bowl and mix.
Refrigerate for 1 hour.
FOR THE EGGS:
Add eggs to pot and submerge in water until fully covered.
Bring eggs to boil over med-high heat. Once water has boiled, remove from heat, cover and let stand for 12 minutes.
Transfer eggs to a bowl of cold water and allow to cool completely in the refrigerator.
Once eggs have cooled: peel shells and slice eggs lengthwise. Carefully remove the yolk from eggs.
Add 3 of the yolks to the cooled sardine rillettes, and mix.
Spoon the mixture into the eggs where the yolks used to be.
Garnish by finely crumbling the remaining yolk over top of the stuffed eggs.
Recipe Reviews