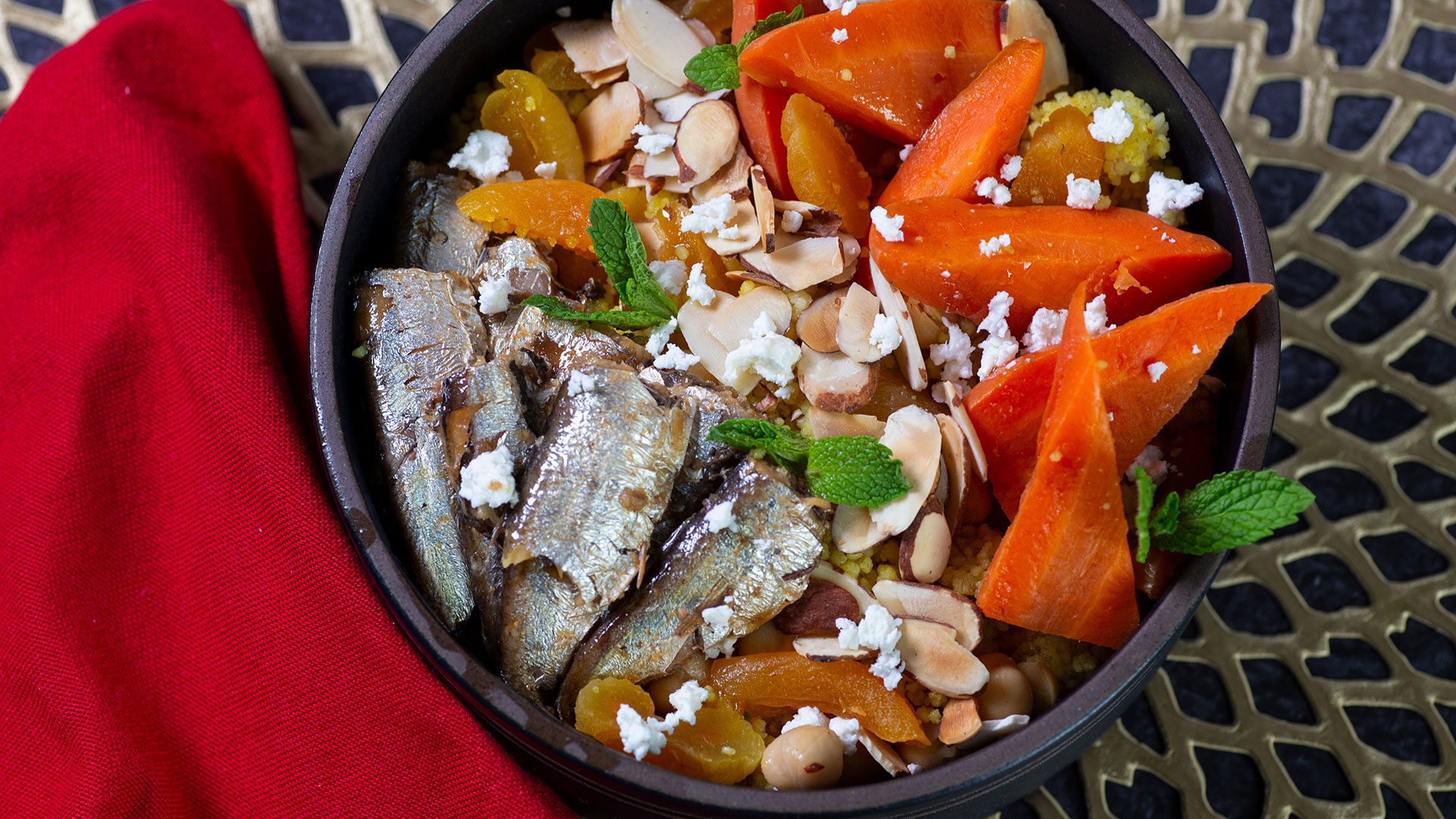 Moroccan Sardines
Print Recipe
Our Morrocan-style Sardines are full of irresistible flavours! Tasty textures, bold colours, and a touch of heat: what's not to love about this dish?
Ingredients
1 cup couscous
4 tbsp olive oil
1 white onion, diced
3 garlic clove, thinly sliced
4 medium carrots
1 tbsp cumin
1 tsp ground ginger
½ tsp chili flakes
1/4 tsp cinnamon
8 dried apricots, sliced
1 can chickpeas
3 tbsp honey
Juice of 2 lemons
1 can (106g) Club Des Millionaires Brisling Sardines In Olive Oil
½ cup almond slices, toasted
Mint, to garnish
Feta, to garnish
Directions
Cook the couscous according to directions on the package. Set aside.
To prepare carrots, peel and then cut on a diagonal so each slice is ½ inch thick.
Heat 1 tbsp of olive oil in a skillet over med-low heat, cook onion, garlic, carrots, cumin, ginger, chili flakes and cinnamon until fragrant.
Add apricots, chickpeas and honey and stir to combine.
Turn the heat to med-high and add 1/2 cup water, cover and cook for 10-12 minutes, or until carrots can be easily pierced with a fork.
Add couscous to skillet and stir everything together.
Add lemon juice and remaining olive oil. Season with salt and pepper.
Top with sardines and garnish with almonds, mint and feta. Serve with couscous.
Recipe Reviews