Anchovy Recipe
Anchovy Pissaladière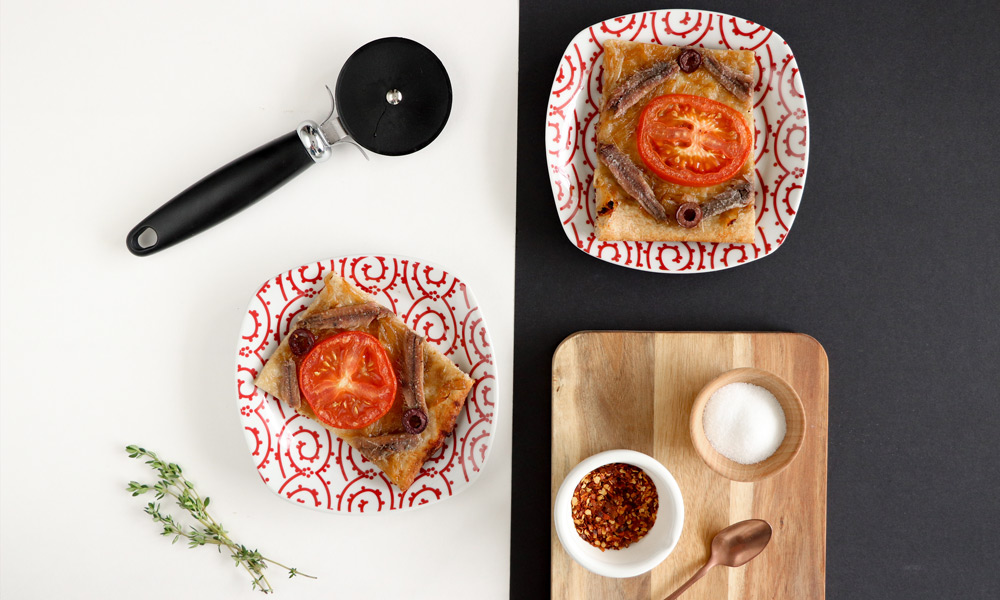 Anchovy Pissaladière
Print Recipe
A delicious recipe from Southern France that you can impress your friends and family with! This Pissaladiere is a pizza-style appetizer featuring savoury anchovies for the perfect tasty element.
Ingredients
1 can (50 g) Club Des Millionnaires Anchovy Fillets, rinsed, drained & patted dry
2 tbsp olive oil
1 lb onions, peeled and thinly sliced
2 cloves garlic, thinly sliced
1 tbsp chopped fresh thyme or rosemary
1 tbsp water
1 lb pizza dough
2 small tomatoes, thinly sliced
⅓ cup black olives, pitted
Directions
Heat oil in large, heavy, non-stick pan over a medium-high gas flame (or 7-8 on an electric stove). Add onions and sauté until they just turn golden, about 10 minutes. Reduce flame to low (3-4 electric) and add garlic, herb and water.
Cover and continue to cook 25 to 30 minutes, stirring frequently, until water has evaporated and, onions are caramelized (dark gold in colour). Add small amounts of additional water to prevent sticking.
Meanwhile, preheat oven to 425° F (220° C).
Roll out dough to approximately ¼ to ⅓-inch (5-8 mm) thickness and place on lightly oiled large cookie sheet. Allow dough to rest 15 minutes.
Spread onion mixture over dough.
Arrange anchovies in lattice pattern over onions and place tomato slice in centre of each square. Press an olive into centre of each tomato slice.
Bake 20 to 25 minutes, or until crust is golden brown. Serve hot or warm.
Recipe Reviews