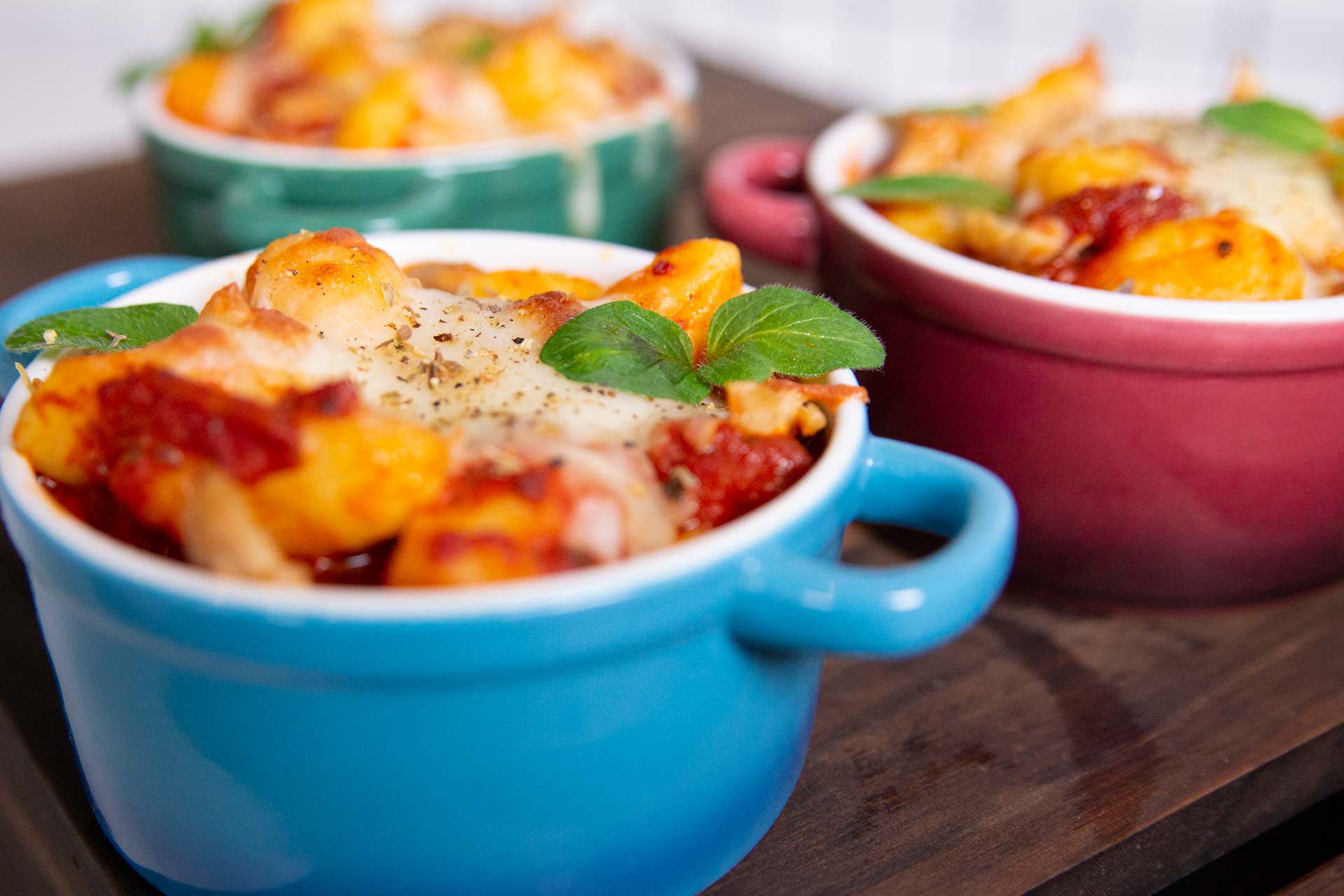 Gnocchi Bake
Print Recipe
Ingredients
1 pack gnocchi or gluten-free gnocchi (1.1 lb)
1 tbsp avocado oil
4 chicken thighs, bone-in with skin
1 tbsp olive oil
8 shallots, thinly sliced
4 clove garlic, thinly sliced
1/2 tsp chili flakes
3 tbsp tomato paste
1 jar (530ml) Authentica Siciliana Sauce
250g mozzarella cheese, grated
Salt and pepper, to taste
½ cup fresh oregano, roughly torn
Directions
Preheat the oven to 375°F.
Pat chicken thighs dry with a paper towel and then season with salt and pepper.
Heat the oil in a skillet over med-high heat. Once hot, add chicken thighs skin side down (they should sizzle when you add to the pan). Cook until the skin is golden brown and crispy, 7-8 minutes. Once the thigh easily lifts from the pan without sticking, flip the thighs and transfer skillet in the preheated oven. Cook for 20 minutes. Remove from the oven, ensure the internal temperature is 165F and set aside to rest. Do not discard the chicken fat from the skillet.
Meanwhile, cook gnocchi according to instructions on the package. When finished cooking, strain, run under cool water, gently toss with olive oil and set aside.
Heat the skillet you used to cook the chicken (with the reserved chicken fat) over medium-low heat. Add shallots and cook until golden brown and slightly caramelized, roughly 15 minutes.
Add anchovies, garlic, chili flakes and tomato paste and cook until fragrant – 4 minutes.
Using two forks, shred the chicken off of the bones and then add to the skillet.
Add Authentica Siciliana Sauce and bring to a simmer. Turn the oven to broil.
Add cooked gnocchi to the pan and stir to combine. Top with grated mozzarella and transfer skillet into the oven to melt the cheese until brown and bubbling,3-4 minutes.
Remove from the oven and garnish with oregano and black pepper.
Recipe Reviews