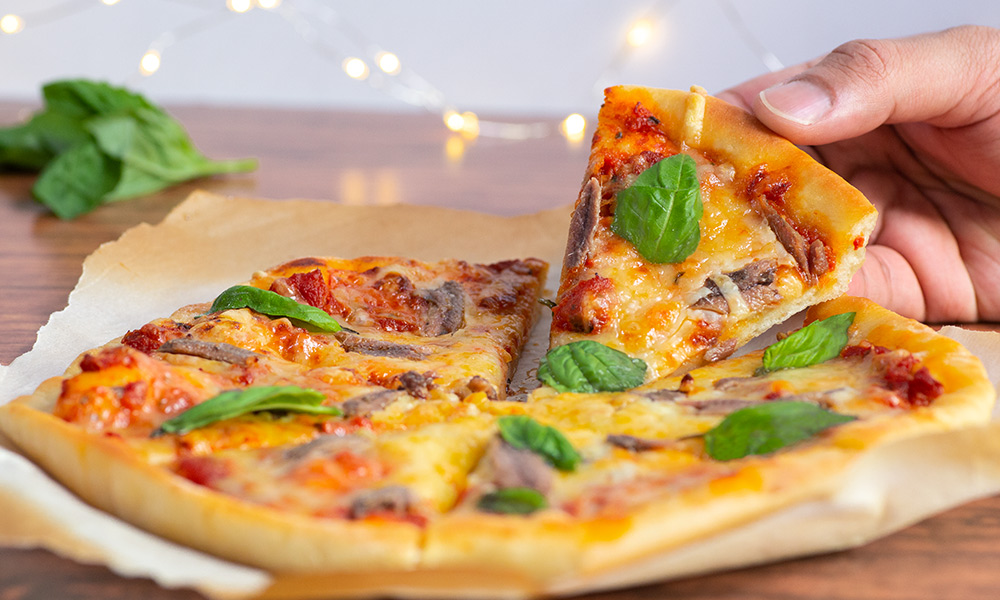 Pizza Napoli
Print Recipe
Make any day Pizza Day with this delicious recipe! You'll love the savoury flavours of the anchovies and fresh basil on this Napoli Pizza.
Ingredients
DOUGH:
1 packet instant yeast (8oz)
2 tsp sugar
1 ¼ cups warm water
3 ½ cups unbleached all-purpose flour
1 tsp sea salt
TOPPINGS:
Directions
DOUGH:
1. In a large mixing bowl whisk together the yeast, sugar and water and set aside for 10 minutes.
2. Mix flour and salt together. Add dry ingredients to the yeast mixture using a large spoon to mix well.
3. Once a rough dough has formed, dump dough ingredients onto a lightly floured surface and knead until smooth, roughly five minutes.
4. Divide into two balls. Place into 2 separate bowls that have been lightly oiled with olive oil. Cover with plastic wrap. Leave out at room temperature to rise for an hour and a half. For best results, refrigerate immediately for 12-24 hours.
PIZZA:
1. Preheat your oven to 500°F.
2. Roll out both balls of dough to form two separate pizzas.
3. Lightly oil two baking sheets. Move your pizza crusts to the baking sheets before adding the toppings.
4. Put ½ cup of the  tomato sauce in the middle of each dough and spread evenly, leaving ½ inch empty along the crust.
5. Top with grated mozzarella and anchovies.
6. Bake for 7-8 minutes or until crust is golden brown and cheese is bubbling.
7. Top with basil and a drizzle of olive oil.
Recipe Reviews