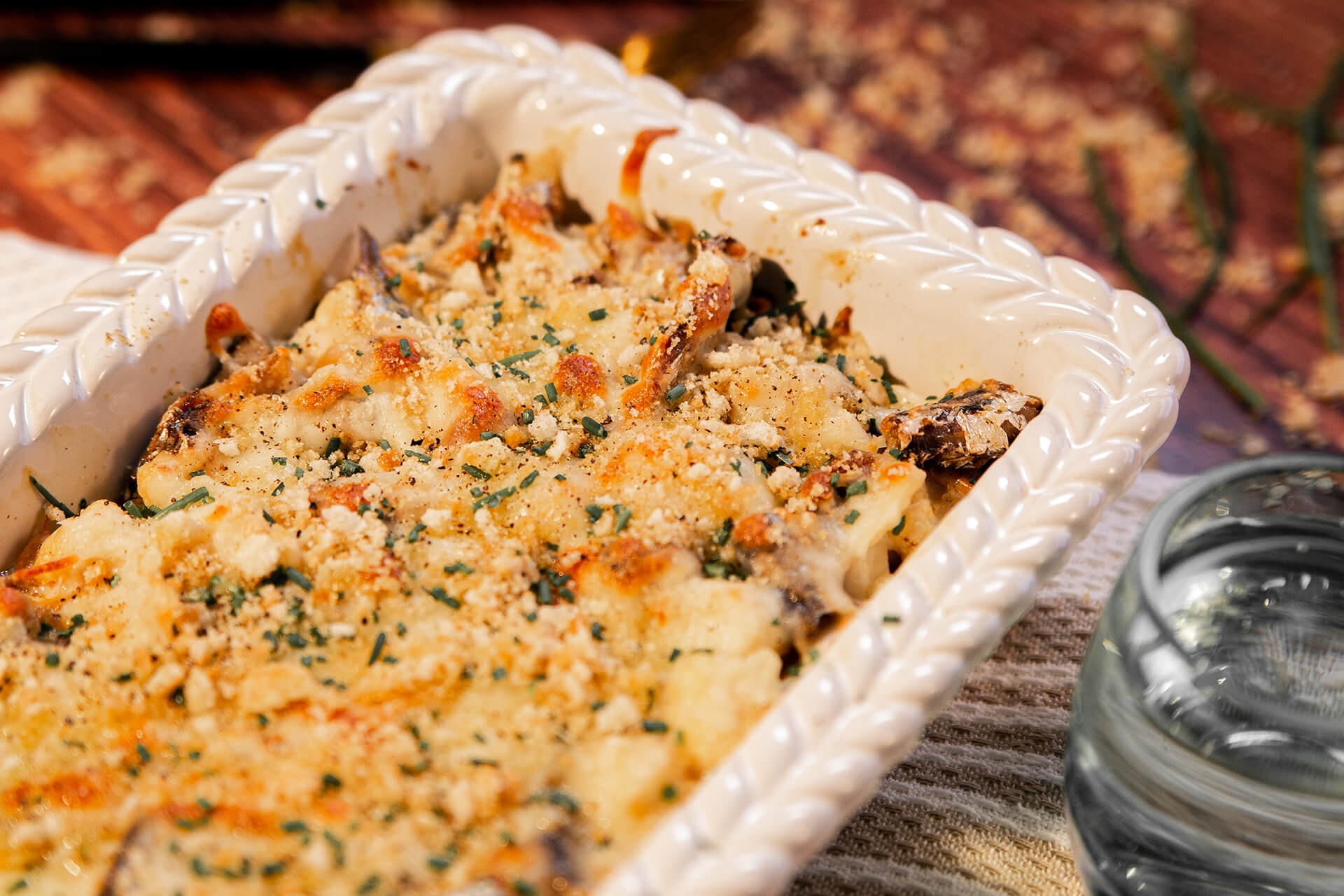 Healthy Seafood Gratin
Print Recipe
Ingredients
3 tbsp unsalted butter
3 tbsp all-purpose flour
1 cup milk
⅛ tsp grated nutmeg
2 bay leaves
1 yellow onion, sliced
3 garlic cloves, thinly sliced
1/4 tsp chili flakes
1 medium-sized head of cauliflower, broken into small florets
1 can (125g) Club Des Millionnaires Wild Sardines in Olive Oil, drained and flaked
Juice of 1 lemon
½ cup mozzarella cheese, grated
Salt and pepper to taste
1 cup breadcrumbs
1 tbsp olive oil
¼ cup chives, chopped
Directions
Preheat the oven to 350°F.
To make a bechamel sauce, melt 2 tbsp of butter in a saucepan over medium-low heat. Once butter has melted, whisk in flour and cook for 3-4 minutes, or until golden brown.
Add the milk and quickly whisk to a smooth consistency. Turn the heat to medium-high to bring to a simmer, whisking occasionally for 3-4 minutes. Turn heat down to medium-low, add nutmeg and bay leaves and cook, whisking occasionally for 8 minutes to thicken.
Meanwhile, melt remaining butter in a pan over medium-low heat.
Add onion and cook for 3 minutes or until translucent. Add garlic, anchovy fillets, chili flakes and cauliflower and cook for 10-12 minutes until cauliflower has begun to soften. Add sardines and lemon juice and toss to combine. Season with salt and pepper.
Add the sardine and cauliflower mixture to a lightly oiled casserole dish. Pour the bechamel sauce on top and finish with parmesan and mozzarella. Season with pepper.
Bake for 15 minutes, remove from the oven and top with breadcrumbs, drizzle with olive oil and bake for another 10 minutes
Remove from the oven and top with chives. Allow to cool for ten minutes before serving.
Recipe Reviews